Creative Touch Landscaping, Maintenance & Irrigation – Surprise, Phoenix, Glendale, Tempe, Scottsdale, Gilbert, Chandler, Mesa Landscape Contractor, Lawn Maintenance, Softscapes, Sprinklers, Outdoor Kitchens, Retaining Walls
Our Services
Hardscapes
Our definition of hardscapes is work in the concept of artistry, and long term increasing the value of the home.
The right hardscape elements can improve the appearance, value and function of your landscape. It can turn the natural features of your property into a living space or transform that impossible slope into a terraced showplace. Creative Touch Landscaping, Maintenance & Irrigation can develop your ideas into solid plans or show you possibilities you never imagined.
Hardscaping allows you to mold your site to suit your needs without sacrificing its natural beauty. It can be used to create an interesting landscape on a former pasture, add a pond or expand your outdoor living area. Native or imported stone, modular block retaining walls and interlocking pavers can be used alone or in combination to solve landscaping problems or enhance the look of your site. Whatever materials you choose Creative Touch Landscaping, Maintenance & Irrigation has the expertise to develop a plan that will fit your needs.
Whether you are looking for a grand path to your front door, intimate woodland seating, or a total site plan, choosing Creative Touch Landscaping, Maintenance & Irrigation for the design and installation of your hardscaping project ensures that you will have the right elements for your site and that you'll avoid future problems from improper installation or inappropriate plantings.
High quality Hardscaping truly brings your landscape to life.
Specialties
We offer the following:
*Palm Tree Trimming * Mowing* Edging* Weeding* Blowing* Bush and hedge trimming* Tree trimming and removal* Desertscapes* Hardscapes* Softscapes* XeriscapesWe provide a free estimate.We also do the following:*Rain water drainage * Fire pits* Fire features* BBQs * Pavers * Grading * Winter rye grass* Sod installation * Sod removal* Artificial and synthetic grass* Sprinkler repair* Sprinkler installation* Retaining walls * Decorative walls* Fencing repair* Fencing installation* Fencing removal* Patio extensions * Concrete walkways* Surface select boulders* Paver patios and walkways* Water features and fountains* Path lights* Tile* Travertine* Rock and granite* Top soil for mounding* Flagstone* Built in BBQs* Landscape design* Sprinkler systems* Flagstone patios* Paver patios * Barbeques, fireplaces, and fire pits* Landscape lighting* Design packages
Lawn Maintenance
Creative Touch Landscaping, Maintenance & Irrigation is ready to add a precious commodity back to your life – TIME! Maintaining your lawn takes time and energy that some of us simply can't spare. That's where we come in!
Creative Touch Landscaping, Maintenance & Irrigation offers services including residential and commercial mowing, edging, trimming, pruning and much much more! We know how to make your lawn look as beautiful as possible and give you the time to enjoy life to the fullest!
Homeowners Associations
We know that homeowners sometimes need to maintain their lawn to a certain level to meet the requirements of Homeowners Associations. Creative Touch Landscaping, Maintenance & Irrigation can not only meet those needs, we can exceed them! We'll keep your lawn looking wonderful and keep your costs down! We'll also work closely with you to ensure that the work we do meets the highest standards.
Irrigation Specialist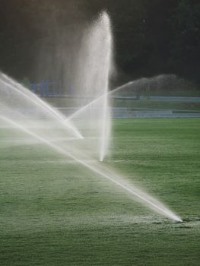 Creative Touch Landscaping, Maintenance & Irrigation is one of Surprise leaders in quality design, the installation, repair, and service and of underground automatic sprinkler irrigation systems.
From complex system installation to the most basic residential sprinkler system, Creative Touch Landscaping, Maintenance & Irrigation provides quality, state-of- the-art irrigation systems. Our system design and commercial grade product combined with proper installation assure you a carefree watering system to beautify your turf and shrubs whether home or away. Nothing can do as much to insure the continued prospering of your landscape, as well as minimize maintenance time and costs, as a sprinkler system that has been properly designed and installed.
Retaining Walls
Enjoy the mystery and strength of stone work.
Throughout history, stone work has allowed humanity to express itself and leave a lasting mark on the world. The Great Walls of China, the Pyramids of Giza, the Parthenon. All of these wondrous works are still around today because they were built with the simplest and most durable of all materials – stone!
Adding a retaining wall to your property will protect your land from the wear and tear of time, and it will add depth and beauty as well. It takes patience to build a well-made retaining wall, and with years of experience in the business, working with stone is second nature to Creative Touch Landscaping, Maintenance & Irrigation.
Whether the homeowner wants graceful, curving lines, or strong, rigid lines, we have the expertise and patience to create a work that will stand the test of time. If you want to enjoy the timeless beauty of stone work and leave a note for generations to come, then give us a call and we'll make that dream a reality.
Tree Trimming
Common reasons for pruning include dead, dying, diseased or hazardous branches. A professional Arborist can provide you with recommendations on how to prune your trees depending on species, location, age, growth rate and the condition of your trees. Most pruning can be done throughout the year with minimal adverse effect on the health of the tree if it is performed by an Arborist. A properly pruned tree will stay healthier, improve the appearance and reduce failure in storms. Pruning service can include raising, thinning, center pruning, removal of large dead wood, demossing and improving the appearance of your trees.
Softscapes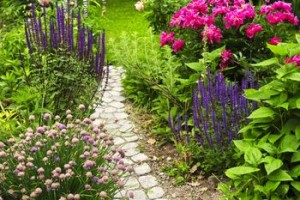 Creative Touch Landscaping, Maintenance & Irrigation is your planting specialist!
The term softscape is an expression that covers the use of all living material and manipulation of the earth.We install turf, annuals, bulbs, ground covers, perennials, shrubs and trees! A large portion of our time is spent finding quality plant material. We pride ourselves on important hand selection of all material we install. All material is reviewed and inspected prior to installation.
Our reputation in our local area is growing regarding how large the plants we install are. If there are no site limitations, is possible to install unbelievably mature plant material. The only limitation you have is your imagination.
As a landscaper softscapes is where our true passion lies. Creating long lasting, low maintenance garden environments that compliment the architecture of your home. We take care to choose plants that grow to their full potential with minimal pruning, or over crowding their space. Combining plant shapes, colors, textures, and form is something we take great care in to create a natural looking beautiful garden environment.